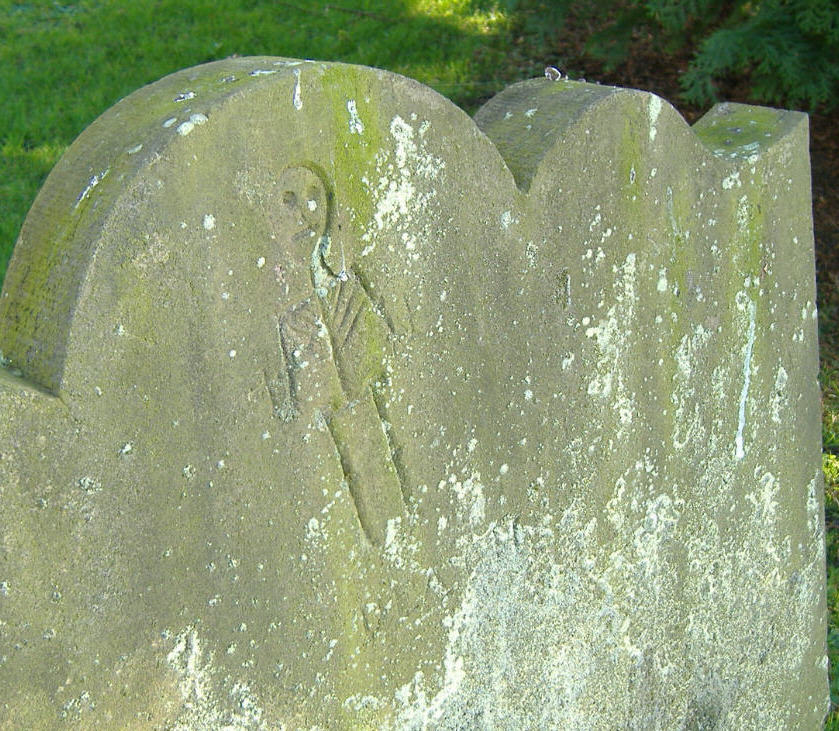 Extract from 'Esh Leaves: Being Drafts upon the Memory of an Old Parishioner' W. R. Wiggen (1914):

A MORBID ECCENTRIC

"They went and told the Sexton, And the Sexton toll'd the bell." - Hood.

In the third decade of the 19th century, an eccentric individual known as Willie Hall acted as sexton to Esh Church. He lived with his aged and widowed mother, and in 1831 they had been evicted from a cottage at Ushaw which they claimed to own, and for resisting this operation he had suffered a term of imprisonment in Durham gaol. On his liberation he met with much sympathy from people who believed him wrongfully convicted, and their support enabled him to build with his own hands a quaint and somewhat picturesque cottage, or hut, by the roadside near Low Esh, which has recently been pulled down and cleared away.

Whilst engaged in building its chimney, passers-by called his attention to the extraordinary dimensions of its flue, and suggested the possibility of burglarious entry by its means, so Willie remedied the defect by fixing some old scythe blades across its interior with their sharp edges upward. After the death of his mother he lived alone and found employment on the highways when not otherwise engaged, but his only congenial sphere of labour was the churchyard, where traces of his work may still be found in the shape of carvings on the back of certain gravestones, mostly of a cadaverous nature and accompanied by cabalistic inscriptions.

The reported illness of any parishioner was a subject of lively interest to him, nor did he scruple to express a hope that his own services might be required in consequence, and in one particular instance he visited the sick room of an elderly parishioner, and assuming him to be moribund, took occasion to assure him that he, the sexton, would see him made comfortable in his last abode, and before quitting the chamber inquired "D'ye like yer heed laid high, sir."

It will be inferred that the sexton had a keen appreciation of human mortality, but unlike some of his class, he contemplated the prospect of his own dissolution with perfect equanimity. He even proceeded to forestall the customary post mortem arrangements by digging his own grave in the churchyard several years in advance, lining it with masonry, covering the open top with flagstones, and erecting a small stone or slab inscribed W.H. at its head. His coffin had already been provided, and whilst awaiting its prospective occupant, lay on top of a low chest of drawers in the living room of his cot and formed a receptacle for oatmeal.

He had previously entertained a wish to be buried in front of his cottage, but on being notified that the scheme was impracticable, he transferred his energies to the churchyard. The proposed grave, however, bordered by stones set on edge, remained for a generation, an object of interest to passing schoolboys, some of whom will doubtless still remember it. He bequeathed by will his cottage and ground to the Rev. T. Chevallier, his chief friend and benefactor, and after the testator's death, a tenant was placed in it at a nominal rent, which however he soon ceased to pay, confident that his landlord would not evict him, and eventually the vicar bequeathed it by will to his quondam tenant.

That poor Hall's eccentricities had afforded amusement to certain young people of a frivolous turn of mind, was evidenced by the following inscription found written with chalk on the door of his empty cottage the day after he was buried:

"Come, let us rejoice, merry boys, at his fall - for if he had lived he'd have buried us all."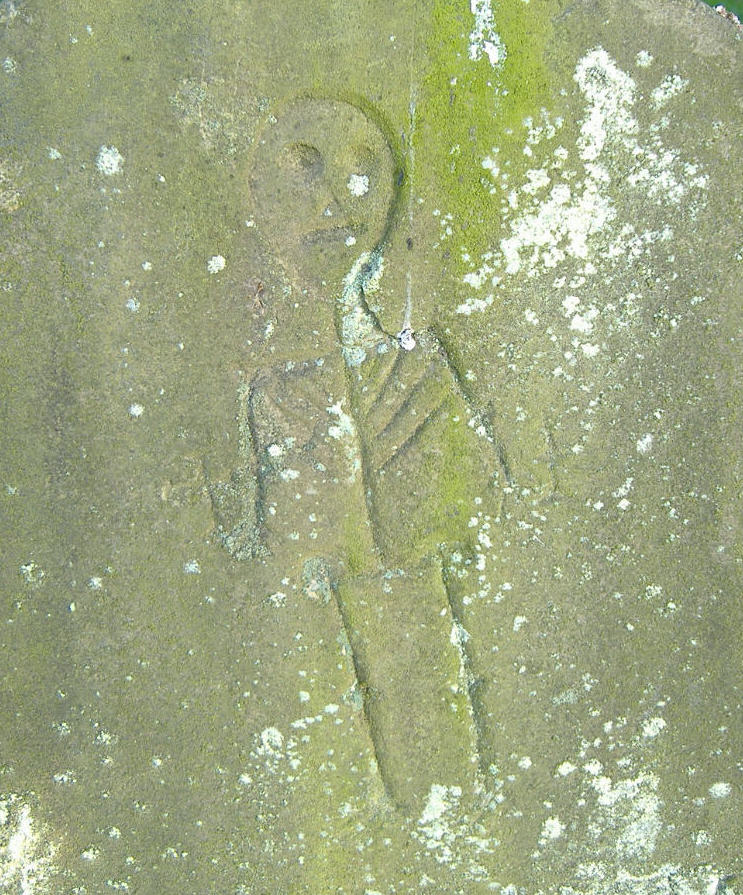 Note: Upon reading the above in the beautiful facsimile edition of Esh Leaves published in 2002, we made a point of seeking out examples of Willie Hall's 'cadaverous handiwork' in the churchyard at Esh - and to our delight found one single crudely incised skeleton, but given the above provenance it seemed to us a thing of real wonderment.

Passing by the churchyard this morning we noticed the graveyard is in line for the municipal vandalism that is being carried out in graveyards throughout the country: i.e. the flattening of headstones to make them 'safe'.

As far as we're aware, this is the only example of Willie Hall's work extant - so we took a couple of photographs which we include here by way of illumination. If they flatten that particular gravestone, we'll have lost something very valuable indeed.

Sean & Rachel McCarron-Breadin / 4th February 2006

Any thoughts or feelings on this matter, please contact:- esh@sedayne.co.uk