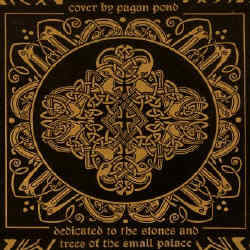 Originally released on vinyl in the UK by United Dairies in 1988 (& since bootlegged in Japan & Australia) the MASSTISHADDHU // SHEKINAH album has now been reissued in a beautiful new edition by Psychedelic Pig in the USA. Featuring a trio pulled from the ranks of Metgumbnerbone (Sean Breadin aka Sedayne - hurdy-gurdy, crwth, percussion, voice // Mike Watson aka Outside Bill - cello, flutes, voice // & Richard Rupenus - voice & gong) the album features meaty pro-studio versions of Sedayne's compositions 'For the Dead & The Unborn' (here called 'Angels Gather Here Between Purity of Heart and Hopeless Despair' after a lyric by Lord Ishmael Loomis & 'Daghda' (here called 'For the Dead and the Unborn' after the titles got mixed up somewhere along the way) & all dedicated to The Stones & Trees of the Small Palace to boot. Very dark Gothic Ritual Folk Improv & most definitely not for the faint hearted...

Review by David Cotner:

Stringed drone and measured organ pulsebeat. Much chanting, and the rhythm wends like the devouring dog on the cover. Circular and passionate and WAIT STOP THE POETRY! This came out 12 years ago? On United Dairies? That's just great, wonderful, fine - WELL, HELLO MISTER FANCY PANTS. This quite frankly is an intensely beautiful recording but hey Stapleton! Can we mellow out with this limited edition crap? If you (and Dick Rupenus from The New Blockaders, who purportedly is behind Masstishaddu) think this is such hot shit, how come we have to go through TWO limited editions to hear it? Blink and it's gone. I know "fair" is a fool's notion, but can we just lighten up a little and let more people hear what's lovin' in yr oven?
Don't get me wrong - I'm checking my ripcord before I skydive but this rocks socks. These sounds are down like a DC-fuckin'-9.



Review by Lucas Schleicher:

In 1988, Steven Stapleton's United Dairies label released this one-off album by a trio consisting of Metgumbnerbone members Sean Breadin (aka B. Sedayne), Matt Watson and Richard Rupenus (also of The New Blockaders). A limited quantity was pressed and, for the most part, it was overlooked and fell into an abyss of collector-talk and rumors. Thanks to the reintroduction by the new label Psychedelic Pig, and the remastering job by Colin Potter, Masstishaddhu's Shekinah can be heard again and appreciated for its insanely mystical tone and occult allure. Everything about this release suggests esoteric happenings: the title, the cover, and the music all recall bloodied altars, unfathomable rituals, and mystical learning. The low and buzzing drone of secret instruments underscores a lava flow of nonsense chants, violins, grunts, and various percussion. The pulse of these sounds is simultaneously warm and frigid as though through the music the difference between life and death was seperated. Whatever words might be spoken during this procession of yearning melodies and utterly ethereal voices is perhaps best left for the Gods. The word "shekinah" is Hebrew and translates roughly as "the presence of God" or as that light which is visible in the presence of God (as God appeared to Moses and others, for example). The title is highly appropriate as the two twenty-plus minute tracks often shine in an inexplicable way. The music burns slowly and washes the space it occupies with sweet and smokey incense, but the interplay of the voices and instruments emanates a bright and insistent energy that escapes the world of words and can only be described, with caution, as a feeling or a presence. Whatever secrets the music holds, they are a fountain of spiritual beauty and unknowable terror. Though the album might burn brightly, it also conceals an old and patient terror. Listening to this record at night gave me chills more than just once. It's as though the character of the record changed with my dispositions: if fear was in my heart, then it was fear Masstishaddhu played for me. If I were happy, then the joy of the Gods shone down upon me and relaxed every fiber of my being. Releases like this feel incredibly special not just because the music is unique and excellent, but because the entire package works well together. For the first time in a long while, I wanted to sit down and go over the titles of the songs, the artwork, and childlike rhyme that accompanied the music. I was completely absorbed in the entirety of the album from beginning to end and there were times at work or when I was out and about with friends that I found myself hungering to listen to the music . Unfortunately, only 500 copies of this release were pressed by Psychedelic Pig, making it another far too limited release of this album. While it's completely sold out from Pyschedelic Pig, there are copies still available at various shops around the world and Internet.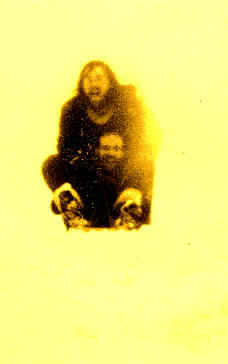 Outside Bill & Sedayne // Sledging in Derwent Valley, Northumbnerland // circa 1983
(photo J. M. Mylotte)