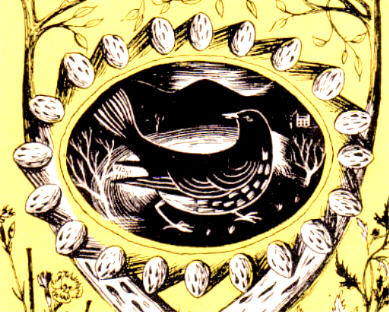 Venereum Arvum : Bird 2004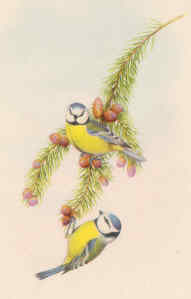 ~ Lesson ~

Aye Bird came once: it was Harris lighting fires that brought it

In winter he burned the nest
& egg hatched in fire & bird was born

Bird flew among trees & he looked at moon
Bird flew among stars til resting he came
On the roof of the crone, Kema

Kema took stones and threw them at Bird
But Bird being quick these stones missed Bird
Falling instead at the back of the house
where these stones broke the ice in Kema's well

These stones were however Kema's wall
Where wall had once been through there came Bear
Bear went in house to rest before fire
And in came Bird to rest upon Bear

So Kema took bread and gave it to Bird
But Bird would not eat the bread that she gave
Why not eat this? Kema asked Bird
And Bird said Bear would be far worse hungry than Bird would be

So Kema took bread and gave it Bear
And Bear ate bread but now wished for honey
Kema brought honey and gave it to Bear
and Bear ate honey and wished for Salmon

So Kema brought Salmon and gave it to Bear
And Bear ate Salmon and now wished for ale
Kema brought ale and gave it to Bear
And Bear drank ale and now wished for Summer

Bear slept ale-happy by Kema's bright fire
And Kema took seeds and gave them to bird
Bird ate seeds and flew among trees til resting it came
On coat of the goat by Kema's well

Out of the goat's coat Bird feasted on lice
But tastier still were the worms from his arse
Who will mourn the fate of those infesting worms?
To be sure, the only tears for them were shed by Bird

Aye Bird came once : it was Harris lighting fires that brought it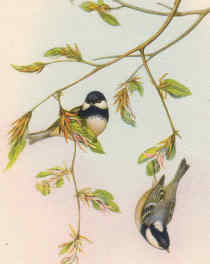 ~ Litany ~

Oh Bittern: you sweet, sweet bird
Oh Blackbird: you sweet, sweet bird
Oh Brambling: you sweet, sweet bird
Oh Bunting: you sweet, sweet bird

Oh Chaffinch: you sweet, sweet bird
Curlew: you sweet, sweet bird
Oh Eider: you sweet, sweet bird
Oh Heron: you sweet, sweet bird

Oh Jackdaw: you sweet, sweet bird
Oh Lapwing: you sweet, sweet bird
Oh Linnet: you sweet, sweet bird
Oh Magpie: you sweet, sweet bird

Mallard: you sweet, sweet bird
Oh Moorhen: you sweet, sweet bird
Partridge: you sweet, sweet bird
Oh Pigeon: you sweet, sweet bird

Oh Puffin: you sweet, sweet bird
Oh Raven: you sweet, sweet bird
Razorbill: you sweet, sweet bird
Oh Robin: you sweet, sweet bird

Oh Siskin: you sweet, sweet bird
Oh Skylark: you sweet, sweet bird
Oh Sparrow: you sweet, sweet bird
Oh Starling: you sweet, sweet bird

Oh Blue Tit: you sweet, sweet bird
Oh Coal Tit: you sweet, sweet bird
Oh Great Tit: you sweet, sweet bird
Oh Wagtail: you sweet, sweet bird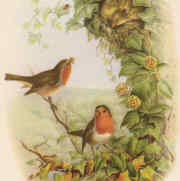 ~ Hymn ~

Botaurus stellaris : Terdus merula
Numenius arquata : Somateria mollissima

Corvus monedula : Vanellus vanellus : Pica pica
Carduelis canabina : Columba palumbus

Corvus corax : Alca torda : Erithacus rubecula
Carduelis spinus : Alauda arvensis

Parus caeruleus : Parus ater
Parus major : Motacilla alba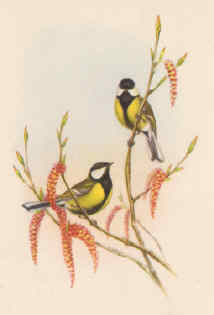 ~ Apology ~

The archives provided us with one of the Bird Dances from October 1993 (see VAS); which moved us to an afternoon of joyful self-sampling. As the loops spun, so Rachel added the organ & the drums which provided suitable motivation for Sean to retell the original BIRD (first heard in a dream in the summer of 1990; subsequent episodes of which can be heard throughout the various volumes of Sedayne Astray). Next came an alphabetic naming song of pertinent species, followed by Rachel celebrating the beauty of their Latin names; after this Sean recorded the pocket cornet in a single take, along with the old bird flutes, which also featured in the telling of Bird. After a few initial mixes we settled on the four included here, which we've set within the context of diverse ambient interludes in which the elements of the piece are freely looped alongside the dawn chorus recorded in our garden between 4.25 & 5.00 am of Saturday June 5th 2004. The whole is sequenced as one continuous 73-minute piece with markers set therein to access as you see fit, thus:

i) Prelude / 5.35
ii) Longa / 19.24
iii) Interlude 1 / 4.19
iv) Dance / 9.22
v) Interlude 2 / 4.07
vi) Brevis / 13.03
vii) Interlude 3 / 3.34
viii) Radio Edit / 9.08
ix) Coda / 4.33

Performed & Composed June 2004 by :

Rachel McCarron: singing, organ, & processing
Sean Breadin: pocket cornet, flutes, voice & loops




Bird 2004 comes in a deluxe hand crafted DVD case CDR-edition only for £10 (includes shipping & seasonally determined gift item) click above button for secure on-line payment via Paypal.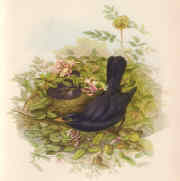 All the artwork comes from Garden Birds by Phyllis Barclay-Smith, published in the UK by King Penguin Books in 1945.