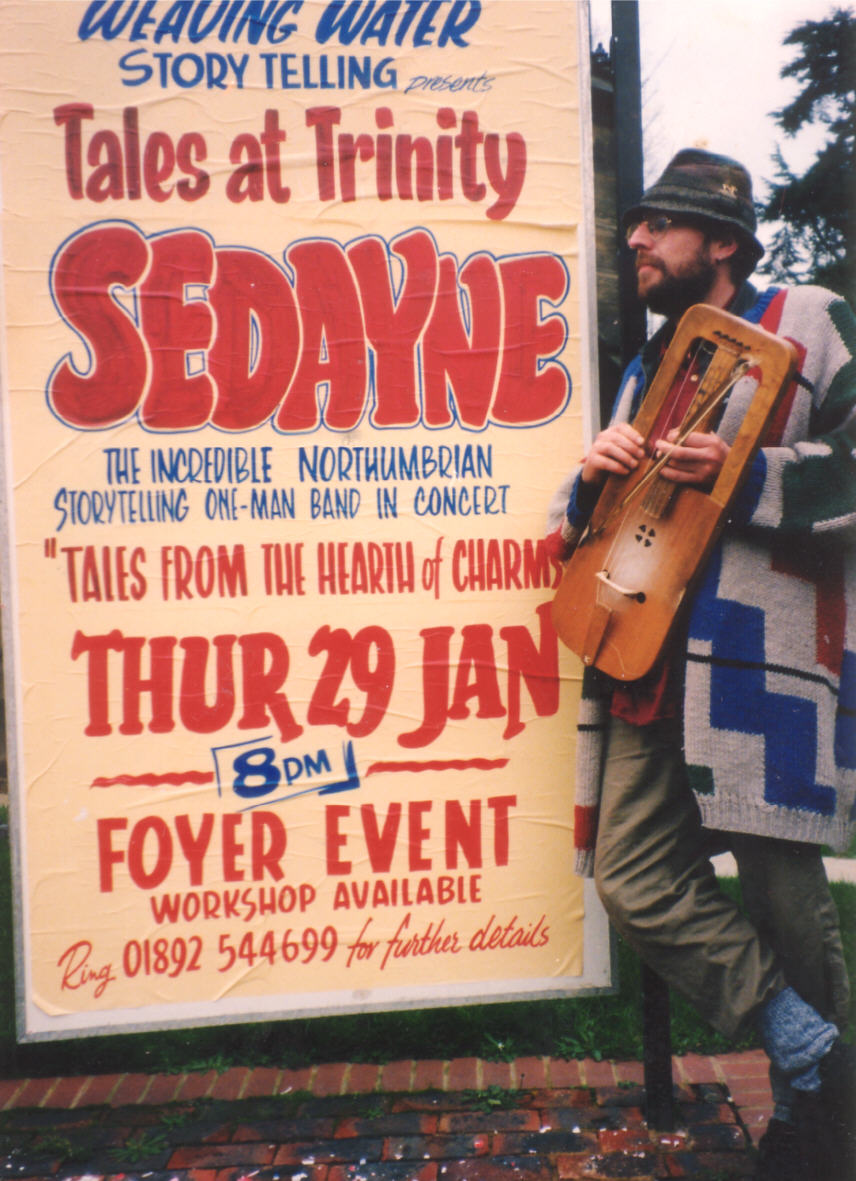 Tunbridge Wells - January 1998

~ Sean Breadin (aka Sedayne) : Stories & Songs for all Seasons ~

Sean has played an active part in the revival of storytelling in the British Isles for the past twenty years and more; tapping into the rich lore of his Northumbrian & Celtic heritage and embarking on a celebration of the Indo-European folk-tale in all its vibrant excellence on a journey which continues to this day.

For more than a decade he has worked professionally in areas of Heritage, Recreation & Education, working contracts for English Heritage and The Woodland Trust, together with various regional authorities throughout the country, as well as making numerous radio appearances & giving workshops for many groups including the Society for Storytelling.

A respected performer for both adult & family audiences he has been a frequent guest at the celebrated Bit Crack storytelling club in Newcastle-upon-Tyne, and has performed for The Guild of Storytellers in Leicester, Weaving Water Storytelling in Tunbridge Wells, The Flying Donkeys in Derby as well as the legendary Crick-Crack Club in both London and Norwich, and the Morpeth Northumbrian Gathering. He performed at the Newcastle Comedy Festival and has taken the craft of storytelling into academia with appearances at Newcastle & Durham University; his recorded works are used at the University of Sheffield to illustrate the more sublime techniques of the craft. He has performed in tandem & association with many leading & respected storytellers including 'A Bit Crack', Raymond Greenoaken, Thor Ewing and Taffy Thomas.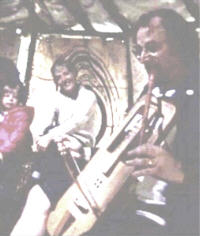 Tees Forest Storytelling Festival - August 2005;
click image for MP3 of Sean playing the 'one man band' of crwth, 2-hole 'troll-pipe' & bells as in the picture

As a musician Sean has worked in areas of medieval, traditional & experimental music, managing to combine the three in his own compositional work which has lately been featured on BBC Radio Three's 'Mixing It' and Resonance FM's 'One Hour As'. He has appeared on numerous CDs, including Martin Archer & Geraldine Monk's critically acclaimed Angel High Wires which also features Julie Tippetts, nee Driscoll, and his wife Rachel McCarron with whom he contributed to the celebrated Infernal Proteus Musical Herbal - a 4 CD hardback book issued by Ajna (USA). Sean was a founder member of Metgumbnerbone whose 1983 album Ligeliahorn currently fetches over £100 a copy on the second hand market; in 1988 he recorded the 'experimental folk' album Masstishaddhu / Shekinah with a trio featuring Richard Rupenus - originally issued on United Dairies, Shekinah was reissued on CD by Psychedelic Pig (USA) in 2000 & promptly sold out. He has also appeared on two CDs & in numerous performances playing percussion & crwth with the medieval duo Misericordia. Among his more recent collaborations is a CD with Italian film-maker & musician Francesco Paladino on MVSICA FIVTO, released in February 2006 on Hic Sunt Leons (Italy) and in May 2007 he had a composition featured on the Sonic Arts Network CD compilation "Otherness" along with such composers as Brian Eno and Karlheinz Stockhausen.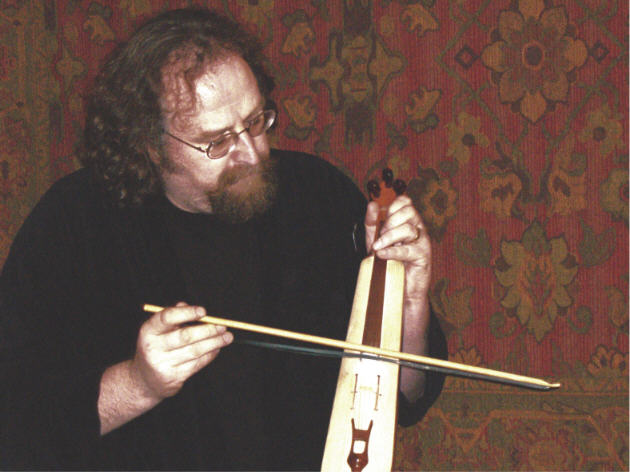 At home, January 2006; click image for MP3 of Sean playing the kemence

In his storytelling performances Sean combines his highly evolved and dynamic use of traditional narrative with virtuoso performances on a diversity of traditional & ancient musical instruments, including the Crwth (an ancient type of Celtic bowed lyre), Hummel (a traditional zither from the forests of Scandinavia), Citera Alpha & Citera Beta (more developed forms of board-zither from Hungary), Pipe & Tabor (the traditional one-man band of 3-hole flute & drum) and Kemence (aka the Black Sea Fiddle, an instrument so light its only support is the thumb of the left hand). He is also a seasoned performer of traditional folk-song & ballad, featuring these in his performances wherein unbroken sequences are woven between story, song & ballad. Sean is often to be found enjoying singarounds in the North East of England, in particular at the Durham City Folk Club which, having been evicted from their traditional home at The Colpitts back in January 2005, now meets in the back snug of The Shakespeare in the very centre of Durham every Thursday evening, 8.30pm .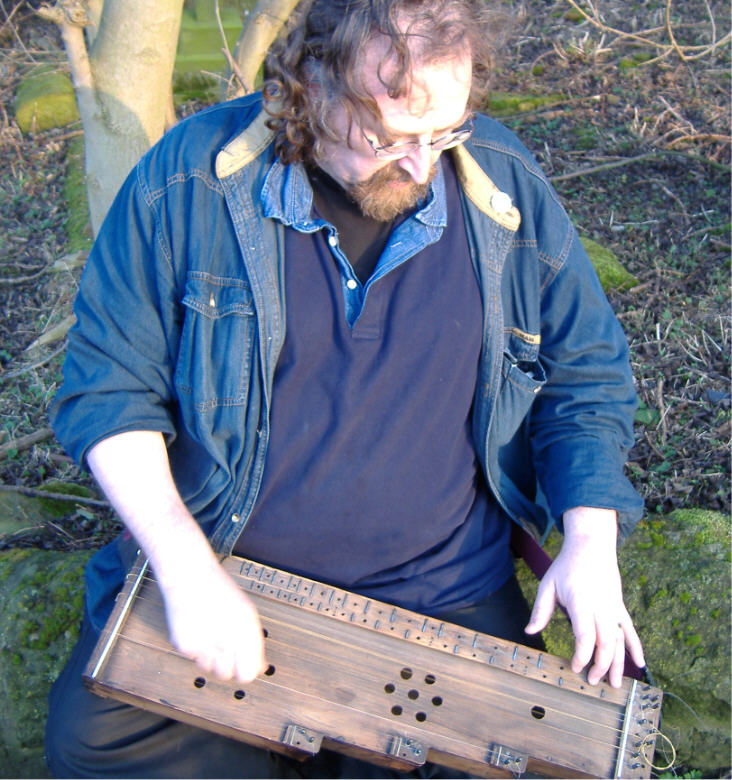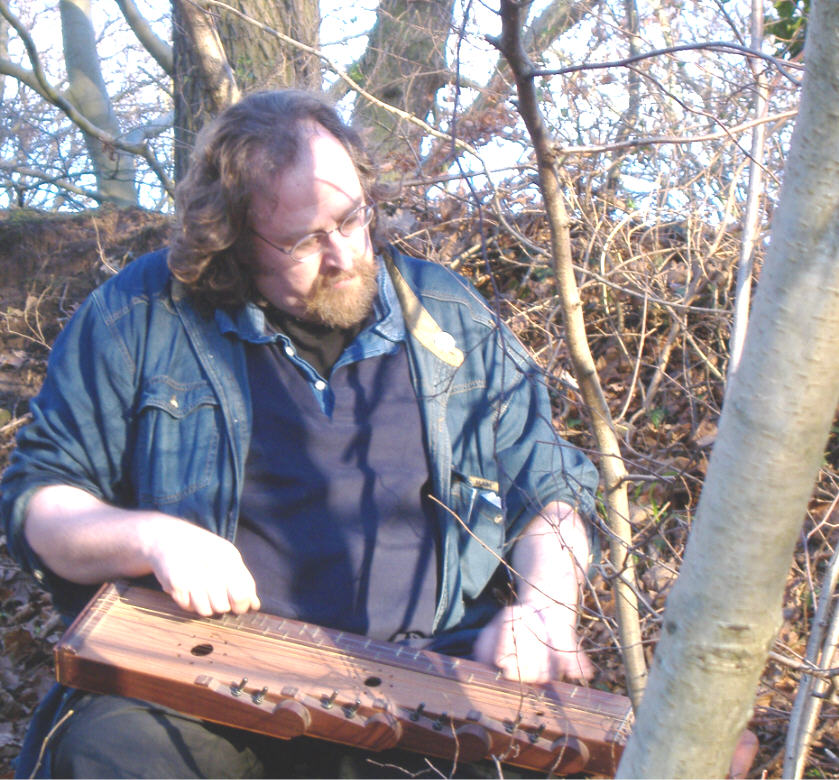 Earsdon & Durham, January 2006 - Click on the left image above for MP3 of Sean singing the traditional Tyneside favourite 'Byker Hill' accompanying himself on Citera Alpha (Moldavian Plain, Hungary, circa 1850), & on the right for the same song sung to the alternative tune accompanied on Citera Beta (Budapest c. 1983)


Film of Sedayne performing the ballad of 'Long Lankin' accompanying himself on the Kemence.


Sedayne performing a traditional English May Carol midst the bonny bluebells of Houghall Woods, Durham, UK on Tuesday the 1st of May 2007 accompanying himself on citera, doromb, dan-moi, cane clarinet from Damascus, diverse bells, fowler call & Victorian clock gong.

"...brilliant storytelling and singing; wry, witty, but entirely magical...."

"...Four-dimensional storytelling unique in variety, music - wicked..."

"...a breathtaking performer of rare power and conviction... empowered and magnificent..."

"...the best around..."

"...the music added flavour and colour to the tales. I've never seen such a variety of unusual instruments..."

"...an attractive drama and a definite seriousness of purpose... Sean's scholarship is self-evident without seeming patronising to the listener..."

"...a wonderful journey through worlds long lost - refound tonight..."

"...wonderful performance and music from Sedayne followed by a lesson in antique musical instruments..."

"...entrancing music..."

"...a rapid-fire delivery that would have most stand-ups ducking for cover..."

"...softly enchanting - I could have sworn I heard a pin drop..."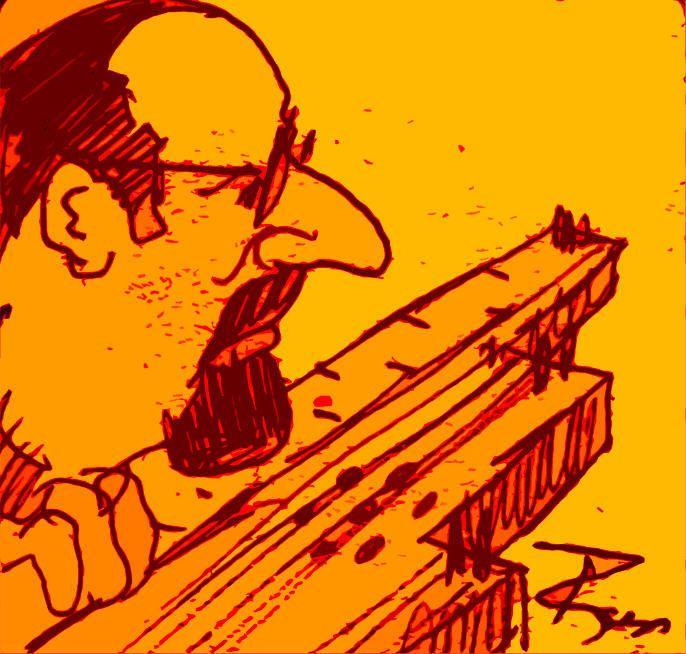 Drawing (biro on beermat with subsequent trickery) by Ron Baxter of the Fleetwood Folk Club, The Steamer, 5th October 2006

Contact: sean@sedayne.co.uk

For more about Sean's musical activities, click on the image below which will take you directly to the website for Ploughmyth International.