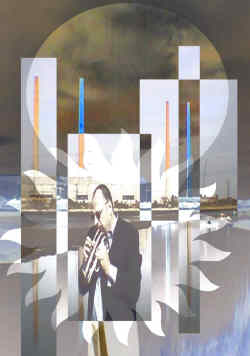 ~ SEAN BREADIN : AS I LIVE & BREATHE ~

As I Live & Breathe arises from a direct experience of the landcapes within which it was recorded; most of the instrumental parts being realised on-location, from the post-industrial estuary of the River Blyth to the wild shores of North Northumberland and all points in between. They were then left to ferment a while in silent disassociation before being sequenced back in the studio in oblique accordance with the genius locii; the pervasive spirit of place that permeates this music, however obvious, or not, that might be: at times it wasn't altogether clear what parts were recorded where, or if that mattered at all, sentiment being the persuasive beast it is, especially in those places where us Geordies go up like whales to breathe & blow...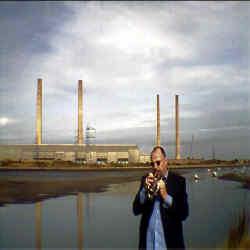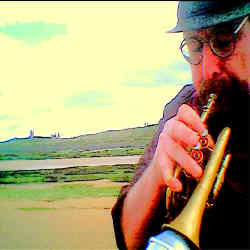 The instrumental line-up consists of echo cornet & pocket cornet, ukulele and Victorian hunting horn; which is say these were the instruments recorded in the field: owing to obvious practicality the organ parts were recorded in the studio wherein also were realised the virtual trombone & contrabass (octave & double-octave cornets and ukulele respectively) together with the diverse rhythm & drone loops created as specific contexts for the field-recorded instrumental parts. One piece, The Dark Sea Broods, features a sample of SEA sung by Clive Powell which provided the catalyst for the cornet melody which was recorded in the once splendid 1920's outdoor swimming pool at Tynemouth. Also integral to this music are other non-instrumental field recording: poultry, penguins, primates, ancient iron stable rings, estuary waves, swans, and the explosions that brought down the chimneys of Blyth Power Station at noon on Sunday December 7th 2003, at which point I called closure.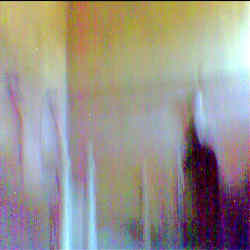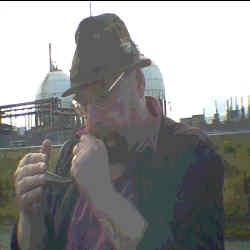 The flavours give evidence of the immediacy of process; a testimony to the alchemical dichotomy wherein it is very often easier to say what something isn't rather than what it is. For instance, As I Live & Breathe isn't jazz; neither is it hip-hop or ambient, though there are certain analogues, frameworks & reference points within which it might be perceived as such by the casual listener to whom the presence of the harmon mute would imply a Miles or a Cherry rather than, say, Fred Fauntleroy, apparently Breadin's own spectral mentor...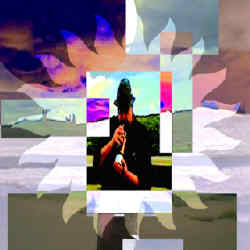 Q - Tell me a little about Fred Fauntleroy...

A - Fred developed his chops in colliery bands of the South-East Northumbrian coalfield in the latter decades of the nineteenth century; the first evidence we have of him as an actual band leader is when Fred Fauntleroy and his Gay Serenity Twentieth Century Orchestra play at the wedding of the Wetherstone twins at Coldharbour Castle on Saturday the 12th of May 1906 after which his presence is felt right up to his death in the fire that razed Coldharbour Hall on the night of June 21st 1952. Eyewitness accounts have him singing the ballad of Tam Lin (self-accompanied on a musical-saw) and playing solos on a Tibetan thighbone trumpet during Halloween festivities in 1928.... In an age before World Music, free-jazz and related 'exotica', Fred was right there doing it, passionately ploughing his own idiosyncratic furrow, albeit unrecorded, though a limited number of disks of his arrangement of Irving Berlin's Monkey-Doodle-Doo (as featured in the Marx Brother's first movie The Cocoanuts) were issued in 1929, although without the twenty-minute 'jungle-music' interlude that made this such a hit with the bright young things who attended the Easter Ball at Coldharbour that same year.

Q - Have you yourself heard this recording?

A - Never, and all enquiries have drawn a blank, though I was told a copy made £900 on ebay a few years back.

Q - So how come you regard Fred as your 'spectral mentor'?

A - Well... I've spoken to his musicians, namely the 94-year-old Aloysius 'Cambois' Kelly who showed me the E7th / F#7th ukulele vamp from Fred's arrangement of The Monkey Doodle-Do. Fred's daughter Kitty Brewster was on hand to play what she claimed was a note-for-note transcription of his solo from the 1929 recording on her father's original echo-cornet which didn't appear on the recording owing to it being purloined during the annual Coldharbour Easter Ball some weeks prior to the session.* I was also fortunate to meet 17-year-old Jason Bebside, great-grandson of Fred's percussionist Billy 'Beb' Bebside. We recorded him playing the remnants of Beb's old trap-set in the garage of his parents house in the shadow of Blyth Power Station; it's Jason's playing that makes up most of the drum loops, old drums with velum heads, old Chinese drums, solid brass snare shells, stuff that belongs in a museum.

Q - So as well as sampling Jason, you sampled the ukulele vamp and the cornet solo?

A - I only sampled the drums owing to a problem with the DAT machine in the nursing home. We would have went back but Aloysius died shortly afterwards and Kitty contracted a lung infection as a result of playing the old horn. Remembering two chords wasn't too difficult, but all I could remember of the solo was one three note phrase. Of course I could have added more, but to me those three notes represent the spectral presence of Fred Fauntleroy, likewise the E7th / F#7th vamp. This became the As I Live & Breathe theme, as well as the foundation for the Blyth Requiem, which of course also features Jason's drumming.

Q - And these elements were sequenced back in the studio using Cubase?

A - Ableton 2 mostly, with material edited on Sound-Forge 5. What I'd really like is a totally acoustic recording device, like the one used in the recording of Louis Armstrong's Hot Fives in the 1920s - what comes back is physical, corporeal. But even though I'm using computers these days, I still believe in real instruments as the physical source; the idiosyncratic essence of the pure moment no matter how processed things get in the digital never-never.

Q - Which is presumably why you got out of the studio to record the instruments?

A - Absolutely; I wanted to get out into the elements, the wind and rain, let it effect my playing; you start picking up on bird song, waves, passing police cars and ambulances, your fingers get cold, numb, but you're out there, feeling something real rather than just going through the motions in the studio, which are at best a necessary evil. It all filters into the music, richly impure and filthy sounds, but real, hence As I Live & Breathe because it's that immediate, like the primal dialectic, nature versus nurture, not so much seeking conciliation but letting it really kick off, which it does, at least it does as far as I'm concerned...

Q - And the hip-hop elements?

A - I've been hearing hip-hop for over twenty years now so those influences are unavoidable, but ultimately the thing I really love about hip-hop is that with the addition of a C and and S it becomes chip shop which brings it just that little bit closer to home somehow...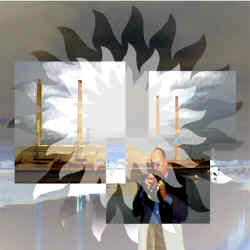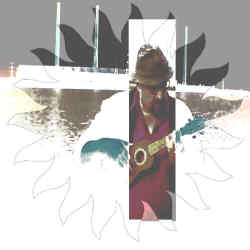 As I Live & Breathe consists of 15 individual items recorded between January to December 2003 & is available in a deluxe black cdr clear DVD-case edition together with the As I Live & Breathe / Supplement featuring additional material & alternative versions: all this (& the usual seasonally-determined gift item) for a mere £12 (inclusive of shipping). Click button below for secure on-line payment.



Enquiries : liveandbreathe@sedayne.co.uk

also available...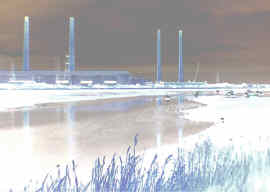 ~ As I Live & Breathe : Blyth Requiem ~

Breadin's personal hommage to this once prominent Northumbrian landmark; two extended sequences of Industrial Gothic derived from material field-recorded by the Blyth estuary. £12 (inclusive of packing). "Chillingly beautiful... a secular work with an almost sacred resonance." Click above image for notes & images; below for secure on-line payment.



To buy both together for a special price of £20 (incl. shipping) click button below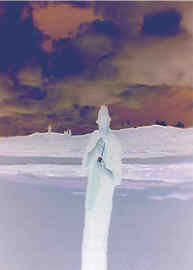 * As Kathleen Carr recalls in her 1953 memoir: "We recorded it in the pillar-hall of Coldharbour Also and Fred was quite beside himself over the disappearance of his echo-cornet for which the arrangement was specifically scored. Rumour had it that Caedmon had taken it, but as this proved false Fred had to make do with the old silver cornet he used to play in the colliery band which wasn't too bad in the event just a little culturally displaced that's all. Not that he wasn't proud of his roots, just a little uncomfortable with them; wary least they spring up again and drag him down with the rest of what Mr Marx laughingly called the proletariat."